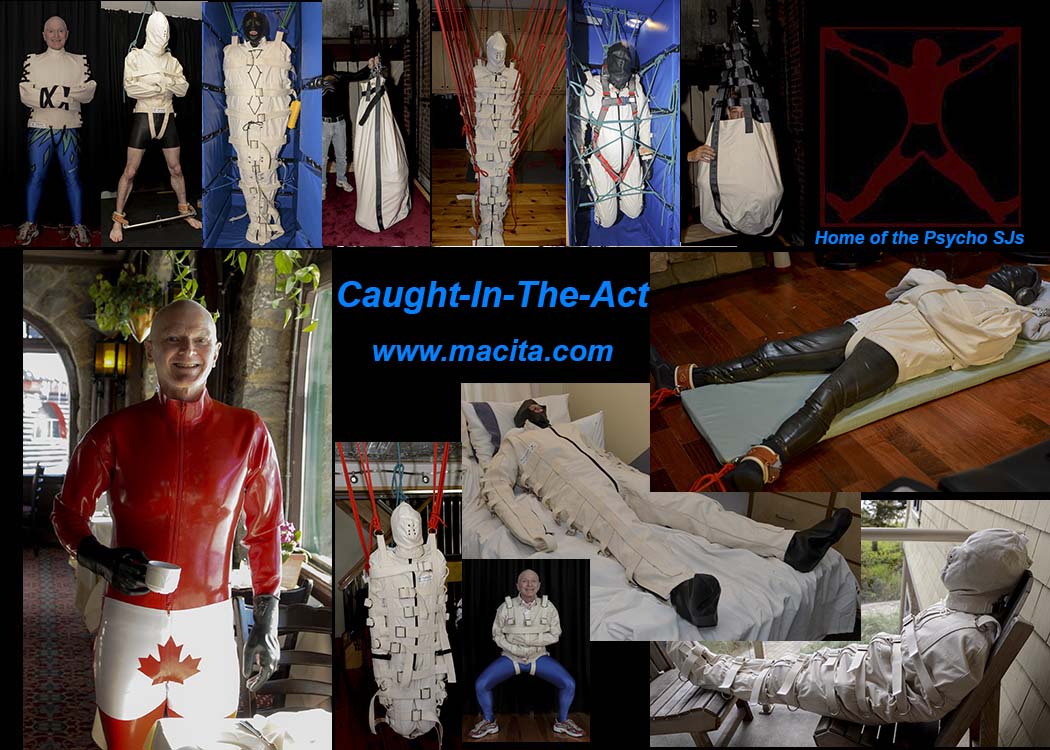 Please note safety issues and other points about the use of Caught-In-The-Act products on our FAQ page
The Caught-In-The-Act Transport Jacket T-01 and T-02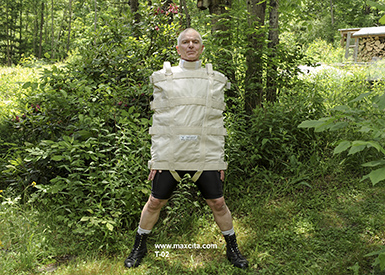 The Max Cita design "Prisoner Transport Restraint Jacket" is offered in two styles for beginner to intermmediate escapes.
The T-01 is a typical design used today for Prisoner Transport. The prisoner's wrists cuffed to a belly chain. Max used the similar Posey (Posey discontinued this product)Transport Jacket in his escape acts many years ago.
The T-02 Psycho has open ended internal sleeves along each side, no need for belly chain and hand cuffs; however, prisoners are best transported using hand mitts to prevent idol fingers searching for a way out.
Caught-In-The-Act Transport Jacket - T-01
A sleevelss cotton body , #8 Cotton Duck

rear entry, 4 - 2" cotton/poly belts/metal buckles to close

2" cotton/poly crotch strap

fits to the hip

neck opening small to prevent curious fingers finding an escape route
Easy to escape for training esacpe artists, but wrist restraints can be added to make the T-01 much more difficult to escape.
Note the tips of fingers just below the waist

Tighten the body belts and the crotch belt to increase difficulty of escape

Add wrist restraints if you are ready for extreme difficulty in escape challenge. In Correctional Facilities prisoners are transported with wrists cuffed to a belly chain then the Transport Jacket applied over top as extra security.

The Max Cita Great Escape uses a Transport Jacket in his "Great Escape" see it here: Max's Great Escape
Stock Sizing for the T-01 and T-02
Check this Size Guide to pick your best size for you. Need a custom fit - write us.
Size in inches

M

L

XL

1. Neck Size

15

16

18

2. Around largest part of Chest includes arms

46

50

56

3. Around elbows includes arms (at waist)

45

48

54

4. Around hips includes hands

46

50

54

5. Shoulder to finger tips

30

32

34

6. Neck at shoulder to hips just below crotch

26

29

32

Measure around the arms but allow a little extra for a loose fit.
The Caught-In-The-Act Transport Jacket T-01 Prices In $USD
| | | | | |
| --- | --- | --- | --- | --- |
| Model | Size | Price USD | Shipping and handling USA | Total $US |
| T-01-M | medium | 330.00 | 44.00 | 374.00 |
| T-01-L | large | 380.00 | 49.00 | 429.00 |
| T-01-XL | extra-large | 395.00 | 54.00 | 449.00 |
The Caught-In-The-Act Transport Jacket T-01 Options

| | | |
| --- | --- | --- |
| Option | Order # | Price $US |
| Matching Separate Hood with biothane locking collar | OP8 | $180.00 |
| Locking 1" Collar | OP-09 | $20.00 |
| Extra D-rings, you need to specify where | OP18 | $5.00 each |
| Dual crotch straps for the T-01 | OP06 | $45.00 |
| Shoulder d-rings for the T-01 | OP-04 | $45.00 |
Caught-In-The-Act Transport Jacket - T-02
Very hard to escape with fist mitts; an easy challenge hands free

#8 Cotton Duck reinforced at belt attachments

opens at the back,

4 - 2" cotton/poly belts/metal buckles to close

1.5" cotton/poly dual crotch strap extends to shoulder D-rings

4 D-rings down each side and at the shoulders

fits to the hip

open end interior vertical cotton arm sleeves along each side

2" cotton collar with 1.5" removable cotton collar
Side D-rings and 2 crotch belts
Internal sleeves down each side of the T-02
Caught-In-The-Act Transport Jacket T-01 and T-02, Price in $USD
 Write us for shipping cost to other destinations
| | | | | |
| --- | --- | --- | --- | --- |
|  Model |  Size | Price   USD |  Shipping USA /CA |  Total $US |
|  T-02-M |  medium | 390.00 |  47.00 | 437.00 |
|  T-02-L |  large | 420.00 |  48.00 | 468.00 |
|  T-02-XL |  extra-large | 439.00 |  51.00 | 490.00 |
Caught-In-The-Act Transport Jacket T-01 and T-02 - Options
| | | |
| --- | --- | --- |
|  Option |  Order # | Price $US |
|  Matching Separate Hood lined, with locking biothane collar |  OP8 |  $180.00 |
|  Locking 1" Collar for the T-02 | OP09 |  $20.00 |
|  Extra D-rings, you need to specify where | OP18 |  $5.00 each |
|  Add some cotton belts  - write us |   | |
More Straitjacket Options: Here