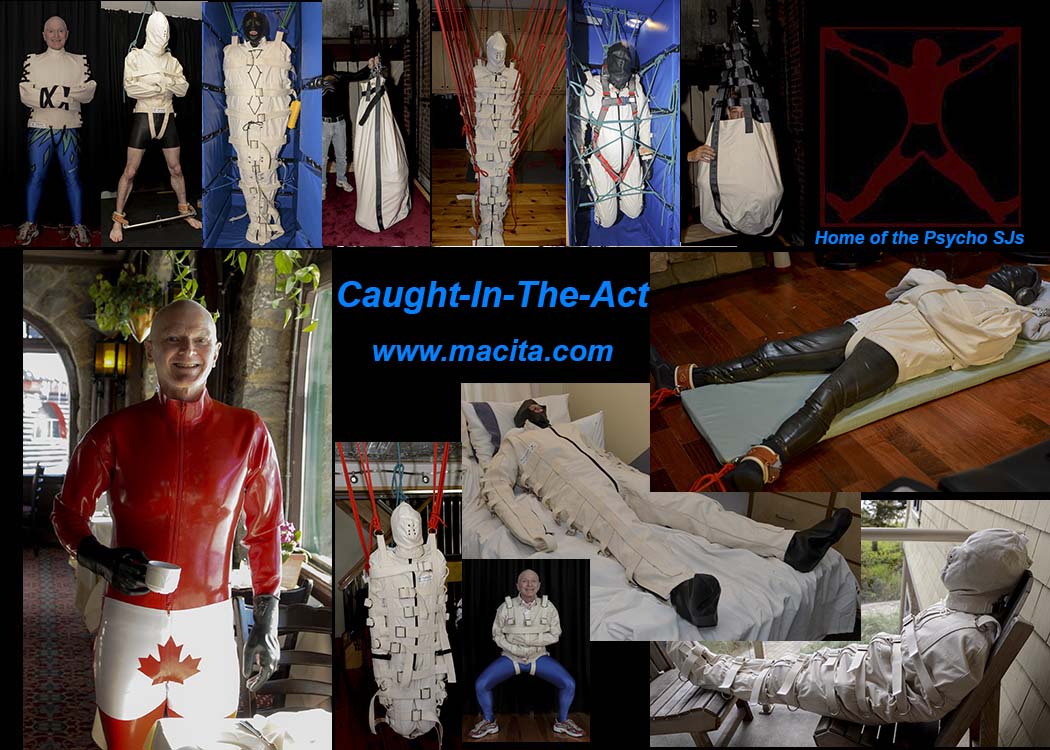 Caught-In-The-Act CBB3VS Sleepsack

Please note safety issues and other points about the use of Caught-In-The-Act products, on our FAQ page
Important Safety Warning: It is not recommended to attempt to go solo in a back or front zip sleepsack using the internal sleeves. Comments have been received to indicate that you might get in but you cannot get out because no matter how you do up the zipper, it needs external help to undo. Trying to tear the sleepsack as an emergency means of escape is not easy to do, if at all. Be Safe in practicing your escapes.
Suspension of any kind increases risk of injury. Insure participants are well trained and experienced before attempting these activities. Prepare a safety and emergency plan with adequate safety support when using a bodybag, especially in suspension. Caught-In-The-Act takes no responsibility for damage to equipment or injury, regardless of cause.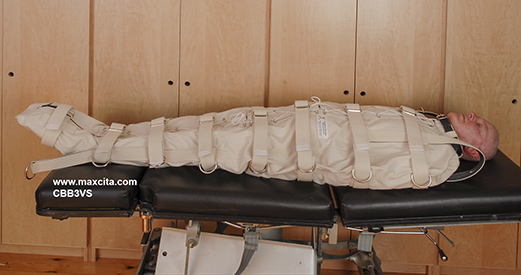 Caught-In-The-Act's - The Heavy Duty Psycho Sleepsack - CBB3VS.
Best For static vertical, inverted and horizontal suspension
Similar construction to the CBB3 Psycho Sleepsack with added following features:
The CBB3VS has extra strong  2" reinforced shoulder and foot straps with d-riings for upright or inverted suspension. These belts are longer and stronger than regular shoulder belts
7 or 8 pairs* of d-rings for horizontal suspension along each side. 7 or 8 optional straps* through d-ring pairs are used to hold feet, ankles, above and below the knees, thighs and torso. (This can vary depending on size).
* number of belts needed depends on height and weight.
We also make special custom sleepsacks with d-rings embedded, special pockets, write us with your pecial design needs so we can help design and price it.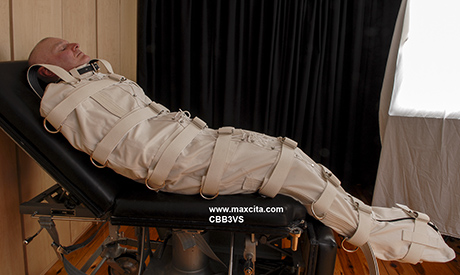 Slightly loose fit is best . Use belts to cinch to desired restriction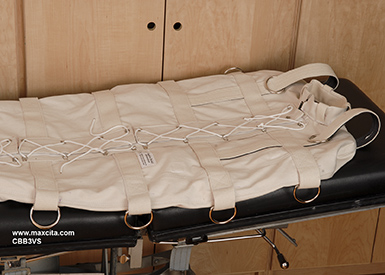 CBB3VS with optional 2" reinforcing for 2" belts. Reinforced shoulder straps will hold 250 lbs.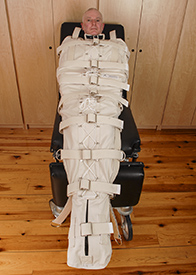 Max is a little grumpy. He cannot escape this time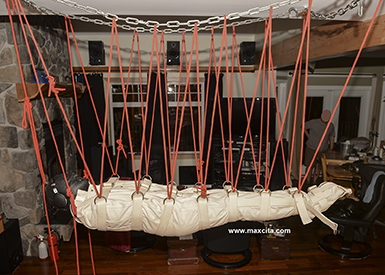 Hang around for an hour or the weekend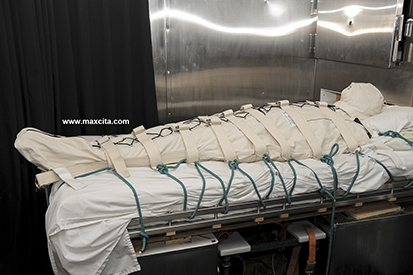 Cozy cotton comfort.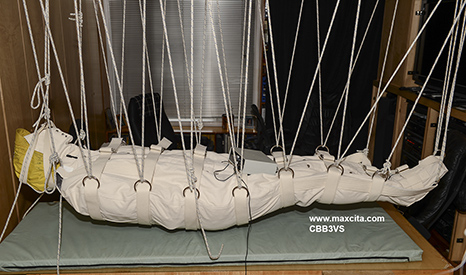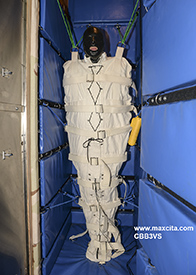 An escape challenge that may not be escapable for this challenger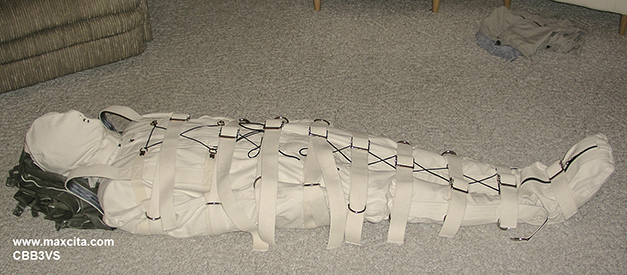 Psycho - CBB3VS, Prices in $US
Model

Size

Price $US

USA/Can Shipping and handling

Total $US

CBB3VS-XS
extra-small

655.00

53.00

708.00

CBB3VS-S
small
CBB3VS-M
medium

685.00

746.00

CBB3VS-ML
medium-large
CBB3VS-L
large

705.00

65.00

770.00

CBB3VS-XL
extra-large
CBB3VS-XXL
extra-extra- large

730.00

79.00

809.00

CBB3VS-XXXL
3X extra-large

755.00

84.00

839.00
other sizes available, including custom designs
The Sleepsack: Options
| | | |
| --- | --- | --- |
| Option | Model # | Price $US |
| Separate Cotton Hood with locking collar | OP8 | $180.00 |
| Set of 7, 2" nylon Seat belt webbing (soft, very strong and supple) | B-1 | $85.00 |
| Set of 7, 1.5 " cotton belts | B-2 | $95.00 |
| Set of 7, 2 " cotton belts | B-3 | $150.00 |
| Set of 7, 1.5" nylon X-strong webbing (stiff scuba belt material) | B-4 | $90.00 |
| Set of 7, 2" nylon X-strong webbing (stiff scuba belt material) | B-5 | $150.00 |
| Set of 7, 1,5" Polynylon belts flexible - lighter weight | B-6 | $45.00 |
| Set of 7, 2.0" Polynylon belts flexible - lighter weight | B-7 | $95.00 |
| Locking Collar same as for SJs | OP9 | $20.00 |
| Extra D-rings, you need to specify where | OP18 | $5.00 each |
| Cotton web collar with pivot jaw buckle | OP9C | $20.00 |
| Cotton Foot Belt with toe d-ring | OPC-21 | 40.00 |
| | | |
More on Sleepsack Options: Here