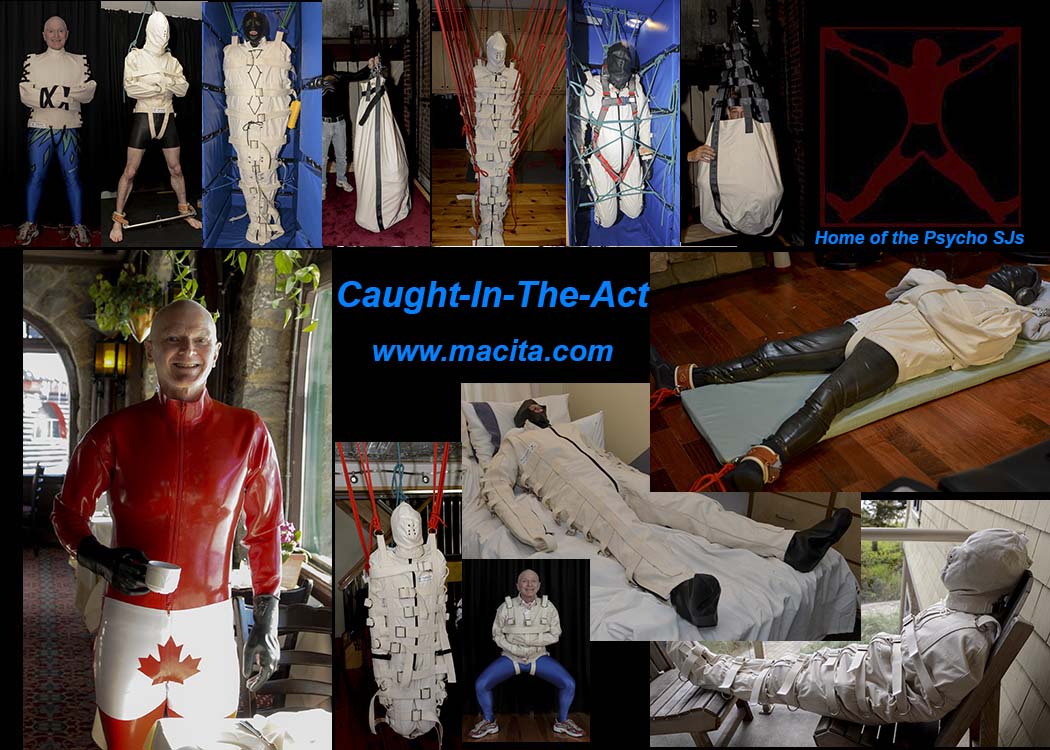 Please note safety issues and other points about the use of Caught-In-The-Act products, on our FAQ page
Important Safety Warning: It is not recommended to attempt to go solo in a back or front zip sleepsack using the internal sleeves. Comments have been received to indicate that you might get in but you cannot get out because no matter how you do up the zipper, it needs external help to undo. Trying to tear the sleepsack as an emergency means of escape is not easy to do, if at all. Be Safe in practicing your escapes.
Caught-In-The-Act External Sleeved Sleepsack - CBB-SL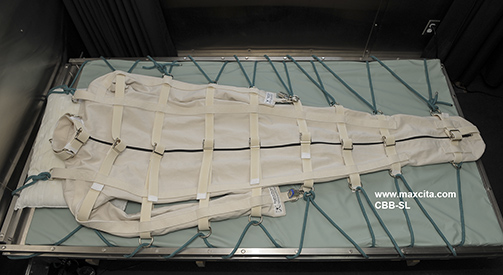 Ideal for those who find the internal sleeve bodybags too restrictive. Arms overhead, down the side or in the classic straitjacket position, you decide. This is a full body straijacket.
External sleeve do up like a straitjacket. (you can add an optional centre loop like a straitjacket);
Zipper entry has three sliders that can be locked; Zipper opening has a small interior flap to cover the zipper;
2" cotton collar with loops to hold a 1.5" cotton buckle collar or add an optional biothane locking collar;
Mounted along the side of the bodybag are 7 pairs of belt loops that can be used to hold optional D-rings with cotton belts, this includes the sleeves so that the arms can be held close in to the body or separated for comfort. (Rope works too but takes more time to do up and undo.)
A variation: instead of 7 side loops down each side - replaced with 7 reinforced loops to the sleepsack with d-ring sewn in (similar to CBB3) slightly more expensive with matching d-ring and loop on the sleeves- ask for details.
At the shoulders welded d-rings sewn into the bag allow for fixing to stationary objects vertically, or horizontally but are not to be used for suspension.
Send us your measurements (personal size form for sleepsacks) and ( personal size chart for straitjackets) we will confirm your exact cost including shipping.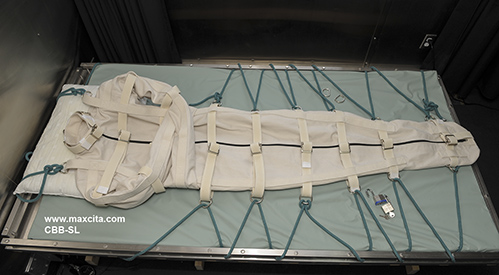 D-rings used on belts are not sewn in, sleepsack with OPC-22 foot belt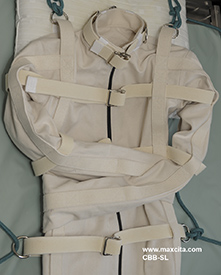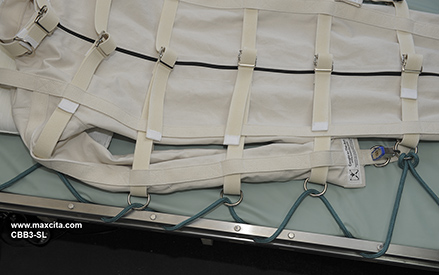 Use of optional belts SL15C offers many restraint possibilities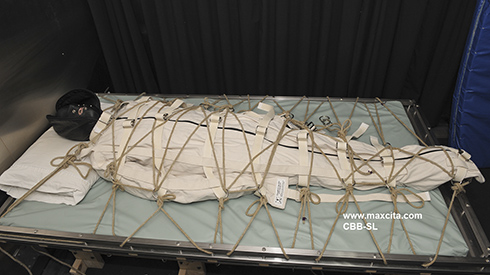 Is this a futile escape challenge?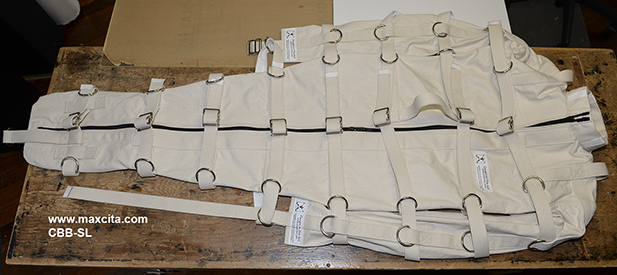 A variation: d-rings sewn into lateral reinforcing (like a CBB3), Belts fit through d-rings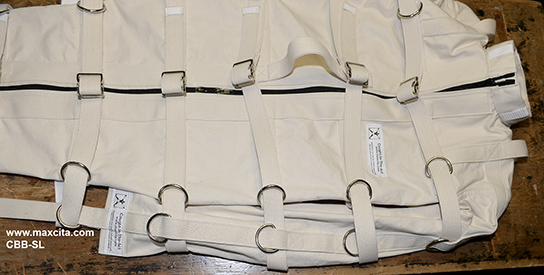 d-rings sewn into sleeve webbing
External Sleeved Sleepsack (loose d-rings on optional Belts) CBB-SL, Prices in $US
Model

Size

Price $US

USA/Can Shipping and handling

Total $US

CBB3-XS

extra-small

620.00

54.00

674.50

CBB3-S

small

CBB3-M

medium

655.00

61.00

716.00

CBB3-ML

medium-large

CBB3-L

large

675.00

78.00

753.00

CBB3-XL

extra-large

CBB3-XXL

extra extra- large

700.00

85.00

785.00

CBB3-XXXL

3-extra-large

730.00

89.00

819.00
CBB-SL: Options
Variation: Lateral reinforcing on sleepsack with d-rings sewn in add $40.00
Note sleeved sleepsack belts are slightly more expensive than for other bodybags as they are longer.
| | | |
| --- | --- | --- |
| Option | Model # | Price $US |
| Separate Cotton Hood with locking collar | OP08 | $180.00 |
| Set of 7, 2" nylon Seat belt webbing (soft and supple) | SL2SB | $145.00 * |
| Set of 7, 1.5 " cotton belts | SL15C | $165.00* |
| Set of 7, 1.5" nylon X-strong webbing (stiff scuba belt material) | SL15ST | $165.00* |
| Set of 7, 2 " cotton belts ** | SL20C | $195.00* |
| Set of 7, 2" nylon X-strong webbing (stiff scuba belt material) | SL2ST | $195.00* |
| Locking Collar for The Sleepsack | OP09 | $20.00 |
| Extra D-rings, you need to specify where | BB-OP18 | $5.00 each |
| Cotton Foot Belt with toe d-ring | OPC22 | $40.00 |
| Variation: drings sewn in place | OP25 | $40.00 |
| Centre loop sewn to one side of the zipper opening holds arms as in a straitjacket | SL-Loop | $15.00 |
More on Sleepsack Options:
Here
* Please note XL and XXL sizing will have optional belts with a slightly increased cost due to extra lengths, write for estiimate.